JAPAN TIMESに取材いただきました。
JAPAN TIMES (ジャパンタイムズ)に取材していただきました。
創作活動について緑間玲貴がインタビューを受けています。
Dance forms mix in pair of shows | The Japan Times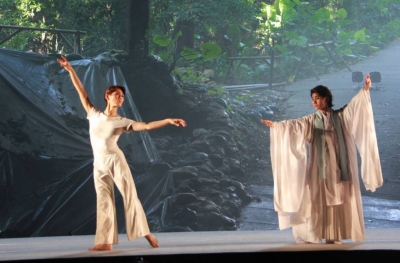 Dance forms mix in pair of shows
Like many art forms in our rapidly shrinking world, dance is
constantly experimenting with variants of the cross-cultural,
extending and blendingboundaries into innovative re-imaginings
of genre. Choreographers such asAkram Khan, an English dancer
of Bangladeshi descent, have found great success by combining
ballet or modern dance with more traditional forms of movement
— in Khan's case, classical kathak training — to forge exciting,
contemporary works that nevertheless honor the past.
Two upcoming productions in the Tokyo area reflect
this trend in dance.
Okinawan ballet artist and choreographer Ryoki Midorima brings
his blendof traditional Ryukyu dance and classical ballet to
Shibuya on Oct. 20 with "TOKOIRIYA: RYOKI to AI vol. 4."
Ryukyu dance was a part of Midorima'supbringing from a young
age.
"I don't even remember when I was first interested because it was
sofamiliar and close to my early childhood," Midorima explains.
"For example,Okinawan wedding ceremonies open with traditional
Ryukyu dance and there is a lot of Ryukyu dance entertainment at
other ceremonies, festivals and parties. When I was a child, it was
common for me to perform ballet with groups of Ryukyu dancers
at the same events."
With his background, it's natural for Midorima to incorporate
different genres into his choreography. In addition to Ryukyu
dance, his newest work also melds traditional Japanese
shrine-maiden movements, his staging evokes an ancient cave,
and his dancers' costumes borrow their patterns from
17th-century Ryukyu art.
"Arts and cultures always exist on the foundation of our
predecessors," he says. "It's like taking over their dreams,
spirits and thoughts to create new performance using their
pieces and styles of dance. It is essential for all artists."
For Ohad Naharin, artistic director of the acclaimed
Batsheva Dance Company, based in Israel, dance provided
an opportunity to create new forms of communication across
all cultures. Famed for his movement language "gaga,"
Naharin's imaginative body vocabulary emphasizes delicacy,
imagination and the human need to explore individual limits
within improvisational movements. It has made Naharin an
international force in dance, attracting a wide range of devotees
from beginners to professionals. He kicks off his nationwide tour
at the Saitama Arts Theater on Oct. 28 and 29 with his 2015
production, "Last Work." The company is also offering a
"Gaga Workshop" on Oct. 27 and 29, led by Batsheva dancers,
aimed at allowing dancers and nondancers alike to communicate
freely in movement.
As tension waxes and wanes between globalism and nationalism,
between world citizen and patriot, culture provides an opportunity
to meld the many possibilities of a broader view of the world.
"It's very natural," Midorima says. "I strive to encounter various
genres of dance, taking their characteristics into my work to
create new styles of movement."